Do Not Upgrade to iOS 4.2.1
The Good
The latest version of Apple's mobile operating system, v.4.2.1, for recent models of the iPhone and iPod Touch, contains a few worthwhile incremental improvements.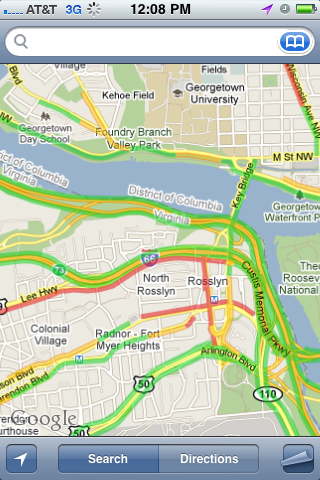 My favorites are the text-searching within a web page in mobile Safari, which I had been accomplishing with a bookmarklet that was not very convenient, and an unadvertised improvement in the Google-powered Map application. I use the traffic reporting, which is often unnervingly accurate and generally very useful. One thing about it always bothered me, though: the colored lines that overlay the roads to indicate the level of congestion obscured the names of the roads, so I sometimes had to remove the traffic data to actually read the map. This is fixed now (see the picture), which was a pleasant surprise.
The other goodies mostly involve things that are relevant only if you're deeply embedded in the Apple ecosystem, such as AirPlay and AirPrint (although, with some headache, it may be possible to use the latter with Linux).
The Bad
Unfortunately, this upgrade also introduces some problems that either won't affect you at all or will irritate you to the point of wishing it were possible to downgrade to the previous version. As it is, I wait with gritted teeth for the next upgrade, hoping that it will fix these bugs.
The new bug bites you if you happen to use a secure connection to a mail server that uses a self-signed certificate. As before, you get an alert asking you if you want to trust the server, which is perfectly normal and probably a good idea. But, not as before, you can not merely give your assent once, or even once per session. You must dismiss the dialog over and over, multiple times every time you try to use the Mail application. If you try to send off a quick email and put the phone in your pocket, the email will never be delivered; you need to wait and respond to the dialog, and wait again in case it pops up again. This horrendous bug doesn't only affect oddballs like me who run their own mail servers; browsing through online fora shows that it is maddening people who use Microsoft Exchange for their corporate email.
Yesterday another horrible thing happened, which I'm pretty sure is a weird side-effect of the same bug. I wanted to send myself a note about an open page in Safari, so that I could go back to it when I got to a real computer. There is a convenient button to send an email containing the link to the page you're looking at, so I innocently sent one off to myself. The next time I tried to use Mail, it was having conniptions and refused to do anything. Killing the process and restarting (which has worked before when Mail has gotten confused) did not fix it.
When I got to a computer and fired up a real email program, I found that iPhone's Mail had sent me over 400 copies of the email. It took all of nine or so keystrokes and about seven seconds to delete them all, but it would have been a headache from within the anemic excuse for an email program that Apple supplies, even without the bugs.
So I am advising anyone I don't hate to hold off on the upgrade until Apple comes out with a version that I can confirm does not indulge in this sadistic behavior. In the meantime, I guess I could get a real certificate for my server.
You are reading http://lee-phillips.org/iphoneUpgradeWarning-4-2-1/
lee-phillips.org is a participant in the Amazon Services LLC Associates Program, an affiliate advertising program designed to provide a means for sites to earn advertising fees by advertising and linking to amazon.com.