gnuplot
What is it?
gnuplot is a widely used scientific plotting program from the unix world that is free and open source. It can produce most of the types of plots that a scientist might require on a dazzling array of output devices.
gnuplot News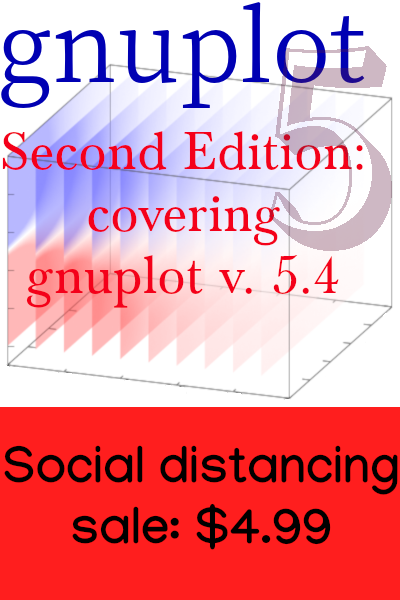 gnuplot 5 by Lee Phillips, on sale now.
gnuplot and [La]TeX
gnuplot and Macintosh
More gnuplot
Some Fun with GNUPLOT — Interesting 3d surfaces (but not much about gnuplot per se).
Gnuplot Tips (not so FAQ) — Very useful, well organized tutorial information in English and Japanese.
Ruby Gnuplot – "Ruby Gnuplot is a pipe-based interface to […] gnuplot […]. Through this interface almost every capability of gnuplot is useable from within Ruby." (Ruby is an increasingly popular scripting language.)
Gnuplot Tricks — nice examples, some using new v. 4.4 features.
Examples of gnuplot in physics.
lee-phillips.org is a participant in the Amazon Services LLC Associates Program, an affiliate advertising program designed to provide a means for sites to earn advertising fees by advertising and linking to amazon.com.